THE PASSION TESTTM
MODULE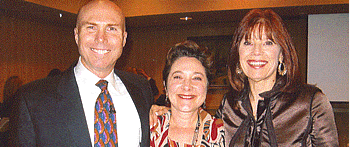 | | |
| --- | --- |
| | |
Description
This is a specific process designed by the authors of the New York Times Best Seller book, The Passion Test™ , by Janet and Chris Attwood. The process is simple yet powerful. The objective is to identify that which is most meaningful for the participant when imagining their ideal life. The intention is to recognize one's heart's desires and to establish what their life would be like if what they truly loved to do, be, and have were included in that person's lifestyle. The self discovery steps are designed to bring to the person's awareness what would make their life feel fulfilled, meaningful, passionate, and purposeful. While applying the process, the participant is guided to suspend any self judgment or rationalizations that might stifle or shut down the passion elicitation discovery.
At the completion of the entire process, the participant will:
Have identified their top 5 life passions



Learned a mindset of principles that guide one's thoughts and emotional choices to sustain a passionate life



Identified their unique action plan to immediately begin to integrate their passions into their day to day life design



Designed markers of evidence that give feedback as to whether or not the participant is on track with their passions




In the private session format, I orient the steps of The Passion Test™ process to apply to the person's immediate life circumstances, their personality, and their desired outcomes.

Format
Delivered in private sessions - 3 hours
OR
in a workshop environment – 5 hours
In the private session format, the training portion is usually delivered in an initial 2 - 3 hour block.

The remaining hours are divided in time increments according to the participant's needs and preferences.
This Program Is Perfect For People Who:


Long for more out of life


Need to create a more enriching life



Are ready to live more meaning and joy


Want to identify what are their true passions




Long to design a life centered around their passions


Wish to begin to grasp their Soul Purpose in this life time




Desire to have a methodology by which to direct their emotions and thoughts to stay motivated and positive about living their passions




Wish to take their passions to the next level of accomplishment and life expression

Have an interest to prioritize their passions according to level of importance
Cost
Private sessions
Single payment ….. $750.00


Testimonials
"I am currently the Vice President of a Fortune 500 company. My profession is so consuming that I don't necessarily take enough time to really reflect upon what's important to me. The particular value of the Passion Test™ is that it brought me clarity as to where to put my intention and attention to make my life's journey the most powerful and positive that it can be. This was not just another exercise. This was about Sasha supporting me in achieving my life's destiny."
- CarolynPineda: Sabre Airline Solutions - Vice President
"You certainly helped reveal the next steps that mattered to me the most. You served as a great listening catalyst. The Passion Test™ is very valuable for individuals and organizations. When people are connected to their passion, they are more productive as passion generates energy and commitment in all aspects of someone's life. It is a great gift for all employees."
- Stewart Levine: Resolution Works - Attorney, Public Speaker, Author -www.resolutionworks.com
"I have been a professional coach and business owner for many years. I enthusiastically wish to acknowledge the value and inner clarity experienced in the work that I did together with Sasha Sabbeth in The Passion Test™ process. She is a most insightful and focused coach who tirelessly facilitated my discovery in this powerful process. The breakthroughs gained working with Sasha were something that I was unable to create for myself. I recommend this valuable coaching to all business owners wanting to move past blocks that limit - to passions that inspire. This revealing and insightful process will create a firm foundation on which to build a satisfying and fulfilling life. And, Sasha is the perfect facilitator and mentor for that result. Inspire yourself to live a life of NO REGRETS! Call Sasha! Sasha, thank you sincerely for your love and commitment to your clients."
- Marilyn Davidson: Chi Enterprises - Coach, Trainer, Business Owner
"Your Passion Test™ Workshop was really helpful and valuable for me! I learned several tools which I can utilize to further my ability to identify my passions and then to manifest them in my life."
"As a self-employed photographer, these tools will help me in directing my efforts to increase my business and to be more organized. Thanks for your wonderful facilitation of a topic that could have gone off track many times, yet, you kept us on track and kept the momentum going. Thank you for a day well spent!
- CJ: Professional Photographer
"Dear Sasha,


Thank you so, so much for the Passion Test™ session. The process was fun, enlivening and enriching. I absolutely loved discerning what my passions and goals were and having a concise list that is now posted on my bathroom mirror, in my dressing closet and in my wallet. I have been using your relaxation technique to ground myself which I find to be a very powerful tool to get focused. In this moment, I have absolutely no idea how I will manifest my dreams but at least now I have concrete dreams to be excited about.
The day after our session, I felt light and happy and thrilled to be alive. From that great place I wrote my 100th birthday tribute which was sooooo much fun. Before our session there was no way I could have written anything that upbeat and satisfying. Now I have a reference to read whenever I don't feel as great as I know I can. I will keep you posted as my dreams unfold because I can actually see them in my mind thanks to your guidance through the Passion Test™ process."
Blessings on you,
Laurie
"My name is Ione Harris and I am a registered nurse. I work as a Triage nurse in Workmen's Compensation in a San Franciscohospital. I also take care of my 90 year old and 93 year old mother and father in law with my husband.
The value that I got from the Passion Test™ process was whittling my passion list down so that I knew which to focus on as my main passions. I now have an experience of being lighter from this process.
The experience that I have had of entering into any type of process about my passions had been somewhat heavy and burdened. I had wanted to understand and define my passions. I had entered into this process with you feeling that it would be too daunting a task, only to arrive at an easy, gentle understanding of the steps that I should take as well as being very clear about what my passions are and where I needed to go with them. Also, I was impressed by being able to work one on one with my passions over the phone with you and experience such a level of clarity and gentleness. I have been in situations where such processes aren't always so gentle. This experience was well worth the money that I spent on myself.
The value of knowing one's passions is a path to living a blissful existence with greater wellness. To get rid of some of the baggage about what you are doing, what you think you should be doing, and begin identifying and start working on those things really allows for greater wellness. To work on your passions is to work on your wellness.
What I will do now as a result of this experience is that I will be more focused on my passions and taking action and not have it be a burden. This is also an experience of actually feeling happier. Therefore, the people around me are also probably going to feel happier.
As a facilitator, you are gentle and clear in speaking and listening that allowed me to actually see which has been there. You listened and posed your questions in a way that allowed me to have light bulbs go off. I was able to reach my own clarity because of your speaking and listening. The gentleness through which that happened forwarded my own well being."
- Ione Harris: Registered Nurse
"Taking the Passion Test™ was for me about getting clear. I have felt for a long time that I have known what my purpose is but have had so much doubt and fear about living it. During the Passion Test ™ process, it felt as though I was stuck in this mud.
My experience with Sasha was one of being committed to me no matter what! She wasn't leaving me there or giving up on me! It was as though she threw me a rope and was pulling me out! When I would say, "Oh, I can't do this or I feel stuck here," Sasha would say, "Ok. Let's try this or let's do that." When the session was complete, I felt as though the mud began turning into clearer running water and I was able to move around more freely.
There are so many who have been resigned and have given up on their dreams. My heart goes out to them because I know what that is. Having this session was so important for me as it allows you to get in touch with your dreams and begin to see what is possible.
God has sent me the most amazing people in my life. I have attracted such powerful women in my life. I am now grateful too for Sasha."
- April Rodriquez
"As a reflective person, coming up with my passions wasn't a difficult thing to do. Where Sasha was helpful, and where I needed her help, was when I came to the barrier of my persistent negative habits. I needed her guidance to move me through them to a new place of awareness about how to embody my passions. As a result, I feel empowered. I feel a new sense of power and motivation. I want to keep this feeling alive and to take action.
The Passion Test™ clarified things that I already knew but brought them into greater focus. What the Passion Test really helped me to do was to see how to achieve them. For me, the process was not so much knowing what my passions were but witnessing them to another person. This then strengthened them. The real breakthrough for me was putting the markers down, which were indicators that one had been taking action and what it would mean to see these things actually manifesting in the world. "
- Starr Goode: Writer, Professor
"Dear Sasha,
The value of the Passion Test™ process was that it gave me a tool to extract myself from the frequent times of confusion about what it is that I think that I should be doing in my life and how I should be doing it. The impact of the entire experience felt as though I had been given a map of those destinations that I most want to experience in my life (my passions) along with a car with which to drive there.
The Passion Test™ would be worthwhile and beneficial to someone desiring greater clarity about where they wanted to go in life and how to get there.
If anyone wonders why knowing that degree of clarity might be useful to them, then, Number One, they have not yet arrived at truly knowing their desired life's passions and experiences, and, Number Two, that person probably has a question as to how they might create ways to live those passions and meaningful experiences.
The power of this process is that it digs into and makes clear what is behind what we think our wants and desires are. It can be shocking to discover that what comes out of this process doesn't agree or match with what we expected prior to the Passion Test™ procedure.
I particularly appreciated how you facilitated the session in such a way where I didn't feel that you imposed any agenda of what you thought was right or wrong on either the process or onto me. You were open without expectation. You were committed to my having the experience that would forward my life with yourself being merely a vehicle. If I was unclear about something, I had the freedom to interrupt the process and get clear about the point that was evading me.
Finally, your belief and commitment to this Passion Test process will greatly support other people. They can count on gaining a greater sense of fulfillment and meaning to their lives. Anyone who has concern about what they are doing with their life and about their own wellbeing can benefit from this simple yet profound structure as it will illuminate who they really are for themselves and who they are for other people."
All The Best,
Paul Grossman
"Dear Sasha,
I work with Sequoia Senior Solutions as a Licensed Care Giver. I also have a home based business. My intention is to show up as a leader in the field of care giving, reforming elder care, and my home based business.
The first opportunity to actually work together was through your 3 hour PASSION TEST™ personalized program. The Passion Test™ process was so enlightening, so powerful. I really had no idea as to how "big" I could be in this world. The process helped me to find my passions. I wasn't that far off in knowing them. However, the value of identifying my true passions is that it now saves me a great deal of time instead of galloping off in many directions that are really not as important to me. I design my days according to my passions. I enter my days with a smile.
At the beginning of the Passion Test™ process, I felt shy and did not quite understand some of the material. You sensed every hesitation, every time I wanted to back step. You held me right there in the palm of your love and kept me moving forward. I am so grateful.
I appreciate so much what you did for me. Throughout the training, I kept waking up to more of who I am. You wiped away the fears, opened my eyes to my own passions, and I came to realize that the things that I suspected about myself are true.
You have the ability to hear what it is that I am saying beyond my words. It is as though you stepped inside me for a little while. I refer to people with your ability as Sensitives or Empaths. You are really HEARING and sensing me at my very soul level.
Anyone can coach someone on instructions on how to be accountable and design action plans. The difference is when you know that your heart has been touched because the exchange fills you with hope and joy to have someone deeply recognize who you are. This is what you did. I have been touched by you. My eyes are open. My heart is expanding. I feel like the child character from the movie "ET" when he was touched on the forehead by the magical ET being before ET returned to its true home. "
Thank you for your love, guidance, and patience
SallyPyne
"I met Sasha at a networking event. Immediately feeling drawn to her energy, I signed up for her complimentary session. As it turned out, I was in the midst of a difficult situation in my marriage when Sasha called. I desperately needed help. She stepped in with astute clarity and nurturing support, at once affirming that my feelings and reactions were valid and helping me understand what was going on. I signed up for the three hour Passion Test™ coaching session and she helped me clarify what is most important to me, especially within my marriage. It became excruciatingly clear that I wasn't getting what I wanted and needed. Sasha and the Passion Test™ gave me the awareness and courage to stand up for myself and ask for what I wanted.
I am now working with Sasha on a regular basis to deepen my understanding of my passions, values, and to learn how to integrate the tools and techniques into my mode of operation in all areas of my life. Having done other coaching programs and being an avid goal-setter all my life, I have participated in many programs with many types of consultants and facilitators. To date, I have not come across anything or anyone whose work was as deeply effective as the coaching and training work that Sasha does with me. I am grateful for having met her at this time in my life. She's a rock, she's a shining light, she's human and warm, and above all, a wonderful source of inspiration. I highly recommend her to anyone who wants to connect with their soul and live a passionate life."
Lone Mørch: Photographer, Sensuality Facilitator -www.lolosboudoir.com