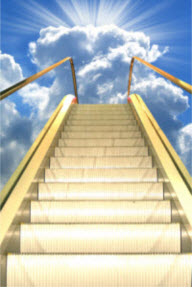 Description
This package is designed to offer the client tools, energy balancing, and mentoring with which to build a foundation of self awareness. Coaching and healing sessions will be focused upon the client's most compelling issues and objectives to move those areas to the next level of the client's comfort, success, and fulfillment.
As with all my coaching and healing sessions, programs, and packages, I will use my intuition, energy transmission, and Soul Coaching skills to facilitate the client's breakthroughs with velocity towards their desired outcome accomplishments.
Format
Package Components:


1. PrintTM Strategies Personality Profile Debrief Session
Click here for more information
2. 90 Minutes of private coaching and healing sessions:
Session #1 – 60 minutes
Session #2 – 30 minutes
3. Entrepreneur Soul Purpose Success 3 Audio MP3 Set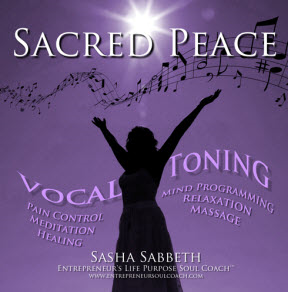 Ø Sacred Peace – Healing And Meditation Music
Click here for more information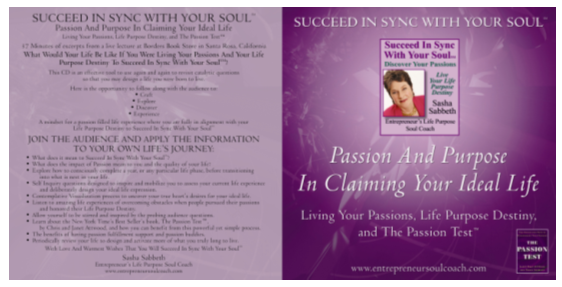 Ø Succeed In Sync With Your Soul:
Passion And Purpose In Claiming Your Ideal Life
Click here for more information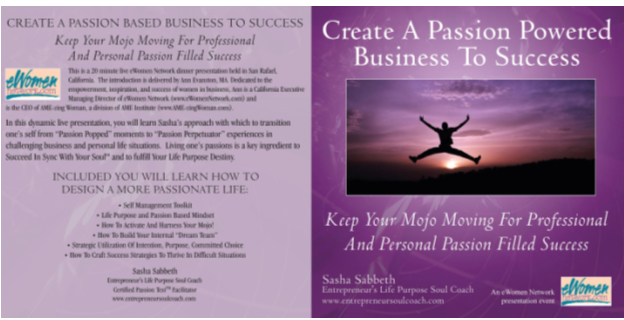 Ø Create A Passion Powered Business To Success:
Keep Your Mojo Moving For Professional And Personal Passion
Filled Success
Click here for more information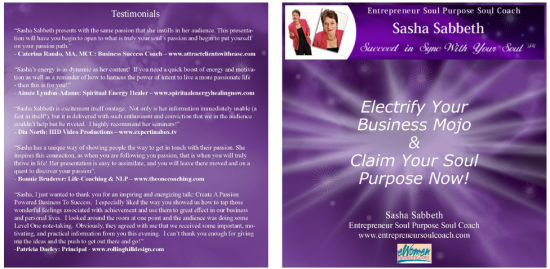 Ø Electrify Your Business Mojo
And Claim your Soul Purpose Now!
Click here for more information
This Program Is Perfect For People Who:
• Coaches, Healers, Therapists, Consultants, and Multi Level Marketing
(MLM) Business Builders.
• Would like to become familiar with the foundation principles of my
message: Succeed In Sync With Your SoulTM.
• Desire an understanding of their personality type, their unconscious
motivators, and the life circumstances that they seek to avoid so that they
can function in their best nature.
• Want to listen to inspirational, motivational, and catalytic presentations
about Soul Purpose, Passions, The Passion TestTM to reinforce their
own sense of Soul Purpose, Destiny, and passions.
• Have issues and/or goals for which they would like a short term coaching
and healing contract structure.
Cost
Full Payment ….. $1,350.00
TESTIMONIALS
Coaching And Healing Testimonials
"Sasha Sabbeth is a force to be reckoned with. She has a quiet, precise power that allows her to be completely clear about her insights. She quickly brought me to the recognitions I needed about my life which helped me refocus my business for greater success."
- Suzanne Sherkin: Highborn Communications - President and CPO- www.highborncommunications.com
"Sasha Sabbeth is an amazing woman - a decisive problem -solver with sound ability to strategize and think clearly under pressure. She is self-motivated, inclusive, decisive, resourceful, and thoroughly committed to professional excellence. Her coaching and presentations help others to clarify their true passions, and facilitates them to move in the straightest path towards fulfilling their dreams."
- SM: Public Relations Business Owner
"Sasha is a catalytic presence. She is particularly remarkable as she demonstrates laser sharp, no nonsense intention and wisdom delivered with compassion, empathy, profound intuitive perception, humor, and love. She will champion your highest vision with dauntless commitment for you to reach your highest personal and professional potential."
- Wendy Phelps: Home Care Nurse
"I have worked (and played!) in individual sessions with Sasha Sabbeth for over two years. Coaching with Sasha has changed my life for the better on all levels. I regard the power with which she enabled me to return to my soul to be among the greatest rare and pivotal transformative experiences of my life. With extraordinary compassion and skill, as well as healing humor and infinite patience, she has perceptively guided me in the direction of my life's work and given me essential validation of the importance of staying true to my heart and core values.
To complete the year with more clarity, inspiration, and purpose, Sasha suggested that I ask my life partner to participate in a customized goal-setting workshop that she designed for the two of us. We worked for three hours over the phone with Sasha on the day of New Year's Eve. The result: my partner and I attained a new level of respect and clarity which I had never thought possible. After 24 years of being in our romantic partnership, I feel that my partner and I are on common ground for the very first time! We are now making a much needed new beginning. Sasha's guidance is pure gold!"
Love,
- Chetana Karel: Hypnotherapist, Sound Healer, Actress, Musician
"Working with Sasha has been an incredibly empowering experience. The 10 minute Daily Laser Coaching And Healing Program sessions have helped me achieve clarity about my Life Purpose and how to release what has been holding me back. Working in partnership with Sasha, I am creating a plan for my future which reflects my passion and life purpose, honors my commitment to self care in body, mind and spirit, authenticates my desire to make a difference in the world with my work, and to Succeed in Sync with My Soul ™!"
Mary E. Knippel: Creativity Mentor , Writer, Speaker - www.openuptoyourcreativity.com
"What a powerful and profound consultation I received from Sasha. A deep healing and awakening that have led to concrete steps and actions I've immediately incorporated into my life. Thank you Sasha."
- Beth Barany: Book Coach and Creativity Consultant- www.bethbarany.com
"As a coach, Sasha offers something truly unique. She leads me to right action that comes from my core, rather than what I think I should be doing. She has a wide breadth of knowledge, is highly intuitive, and has a profound level of spiritual integrity that continually calls forth the best in me. I now have greater integrity within myself, which in turn has made me more powerful in the world. I've gone from feeling stressed and uncertain, to waking up each day excited about my business and grateful for the ever increasing opportunities that are coming my way. "


- Joie Seldon, M.A.: EMOTION EDUCATION™ www.joieseldon.com
Print Strategies Personality Profile Testimonies
"Doing the PrintTM Strategies Personality Survey with Sasha was a very validating and illuminating experience. I got tremendous value from finding out about my unconscious motivators and how they fully drive my thoughts, actions and beliefs. It was amazing to see how accurate it was and how good I felt about myself as a result. I also saw how far I have come in developing the positive aspects of my print.
More importantly, Sasha offered her own integration of the information through her great insight and vision into what makes me tick...I really appreciated that! In addition, she had a way of reframing my thoughts/questions so that they were powerful, useful and enlightening for me. I left our call uplifted and empowered."


- Rita Reneaux: YES And Company - Trainer, Business Consultant - www.yesandcompany.com
"My Print Personality Profile session with Sasha was quite liberating. I felt a shift in my day to day experiences right away. Sasha was masterful at helping me understand the results of the profile in a way that I can apply to specific situations. I feel like I've been given permission to be who I am!
Sasha is the best coach I have ever worked with because we truly work on a Soul level.
Sasha is also the best coach I have ever worked with because the work that she customizes for me goes to the core of what I need. The beneficial results include that I am freed up to express myself through my behavior in more successful, effective ways for my fulfillment, inner peace, and goal objectives."
Joie Seldon, M.A.: EMOTION EDUCATION™ - www.joieseldon.com
"Professionally, am in the tax and finance field. As with the Enneagram, reading about my personality type In the PrintTM Strategies Personality was useful; but the most powerful piece was the consultation you provided. Your gentle guidance in digging deeper was very useful in getting to a new level of awareness of myself and where my personality has come from. I find that I am now embracing parts of my personality that I had partially (or completely) denied and, therefore, didn't pay much attention to in my quest for peace within my Self. Thank you for your expertise and guidance."
- Lynn Johnston: Lynn Johnston, EA, Inc. - Tax and Bookkeeping Services - www.johnstonea.com
MP3 Download And Audio CD Testimonies
"I was profoundly blessed by Sasha Sabbeth's breathtaking talent in her CD, "Sacred Peace." The tones were exquisite and powerful. It was as though an angel was with me and touching me deeply in unexplored places in my heart. I was uplifted and revitalized as well as moved by the sacredness of each tone. Thank you, thank you."

- Rita Reneaux: Principal and Founder - Yes & Company - www.yesandcompany.com
"Enchantingly peaceful; Contemplatively soothing. Sasha Sabbeth's CD, "Sacred Peace" will cause your thoughts to be elsewhere. Her music creates such an atmosphere and energy that guides a person into meditation without trying."
- Glenn L. Schoeneck: Community Manager
"I listened to Sasha Sabbeth's meditation and healing CD, Sacred Peace. It was one of the best meditative, relaxing tools that I have ever experienced. It took me quickly and easily into a sort of dream state along with a lovely floating sensation. I was extensively able to leave behind my "head stuff" without interruption from the usual brain chatter that normally tends to creep in. The music was very refreshing and peaceful. It was a wonderful "letting it all go" experience."
- Annie Erb: Personal Trainer
"I was feeling stressed in my office today trying to get through some paperwork. I put on Sasha Sabbeth's "Sacred Peace" CD and it shifted my whole experience. My body relaxed, my mind relaxed, and I got the work done stress-free."
- Joie Seldon, M.A.: EMOTION EDUCATION™ practitioner, public speaker - www.joieseldon.com
"Sasha's energy is as dynamic as her content! If you need a quick boost of energy and motivation as well as a reminder of how to harness the power of intent to live a more passionate life - then this is for you!"
- Aimée Lyndon-Adams: Spiritual Energy Healer – www.spiritualenergyhealingnow.com
"Sasha Sabbeth presents with the same passion that she instills in her audience. This presentation will have you begin to open to what is truly your soul's passion and begin to put yourself on your passion path."
- Caterina Rando, MA, MCC: Business Success Coach – www.attractclientswithease.com
"Sasha Sabbeth is excitement itself onstage. Not only is her information immediately usable (a feat in itself!), but it is delivered with such enthusiasm and conviction that we in the audience couldn't help but be riveted. I highly recommend her seminars!"
- Dia North: HID Video Productions – www.expertinabox.tv
"Sasha has a unique way of showing people the way to get in touch with their passion. She inspires this connection, as when you are following you passion, that is when you will truly thrive in life! Her presentation is easy to assimilate, and you will leave there moved and on a quest to discover your passion".
- Bonnie Bruderer: Life-Coaching & NLP – www.theonecoaching.com
"Sasha, I just wanted to thank you for an inspiring and energizing talk: Create A Passion Powered Business To Success. I especially liked the way you showed us how to tap those wonderful feelings associated with achievement and use them to great effect in our business and personal lives. I looked around the room at one point and the audience was doing some Level One note-taking. Obviously, they agreed with me that we received some important, motivating, and practical information from you this evening. I can't thank you enough for giving me the ideas and the push to get out there and go!"
- Patricia Daeley: Principal - www.rollinghilldesign.com
"I have worked with Sasha Sabbeth as a coaching client on several occasions. She is utterly committed to her clients, and has the unique ability to offer content that is relevant to the client while working her magic.
As highlighted in her presentation: Create A Passion Powered Business To Success, even when one is feeling diffused, lacking confidence or just generally tired of working in their chosen field (and we all get there from time to time), Sasha has exercises and techniques to put you back on track and feeling passionate about life and work.
I highly recommend Sasha as a Entrepreneur's Life Purpose Soul Coach to anyone who wants to be inspired, to become more passionate about their life's purpose, and to pursue their committed objectives."
- Nancy Lewellen: Attorney - Palladian Law Group – www.palladianlawgroup.com
"Sasha's Succeed In Sync With Your SoulTM CD is a potent 37 minutes of "Soul Food" nuggets. Her passion is completely contagious. Through her evocative invitation, I could feel my heart tune more to what excited me, lights me up, and turns me on. I recommend this value-packed coaching CD for anyone who could use encouragement and a healthy dose of support in living his or her most passionate and ideal life. Thank you, Sasha!"


- Fay Freed: Co-Director, Wisdom Connection - www.wisdomconnection.biz

"I found Sasha's Succeed In Sync With Your SoulTM CD quite powerful. I was surprised by my reaction since I am already clear about my passions and vision in life. I was stretched to consider ideas that had not crossed my mind due to the conversations on the CD. I love having my perspective expanded and Sasha does just that in a very nurturing and profound way. This CD is so worth having!"
- Rita Reneaux: Consulting Firm Owner: YES! & Company – www.yesandcompany.com
"The views that Sasha expressed in her 'Succeed In Sync With Your SoulTM CD were global and dealt with every area of my life. It was inspiring in how it challenged me to change my view and my perspective. I don't know if I'm there yet. However, I know that I can listen to it again and again and get something different out of it every time that will enhance my life. This is a valuable resource that I now can add to my tool kit."


- MB: Assistant Community Property Manager, Greystar Real Estate Partners, West
"Sasha Sabbeth's Succeed in Sync with Your Soul™ CD provides the listener with a good overview of her message and style. In it she asks a series of questions to invoke introspection and reflection and help the listener identify what is important to them. Many individuals go through life focusing on day to day issues, ignoring the bigger picture. Sasha, as a Entrepreneur's Life Purpose Soul Coach, works with her clients to identify and appreciate the bigger picture with regard to what is truly important to them in life. She enables them to identify their passions."
- BM: Trust Officer, National Trust Bank


"Sasha's energy and words in her Succeed In Sync With Your Soul™ CD inspired me to approach my life from a Higher Self perspective. Thank you, Sasha, for I now look forward to quickening my pace as I run with more clarity along the path of my own destiny."
- GS: Community Property Manager, Greystar Real Estate Partners, West