Music – Meditation And Healing Product MP3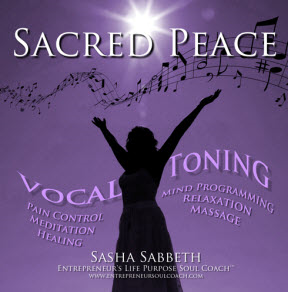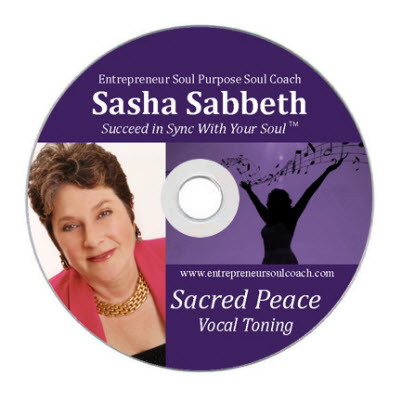 Listen to audio sampler here
For More Information on this product included in the complete collection
Click Here
Motivation, Inspiration, Passion, Soul Purpose Live Presentations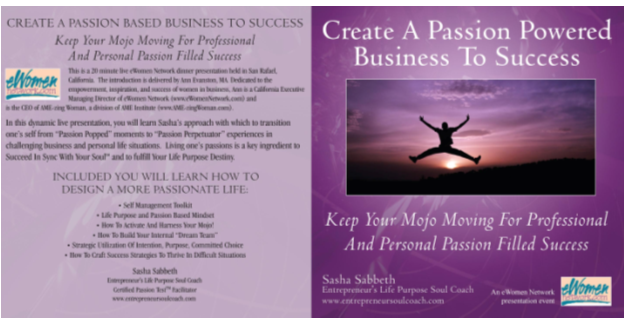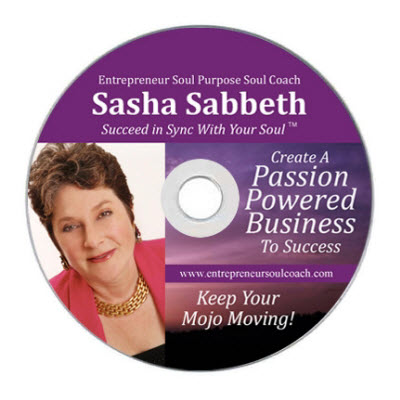 Listen to audio sampler here
For More Information on this product included in the complete collection
Click Here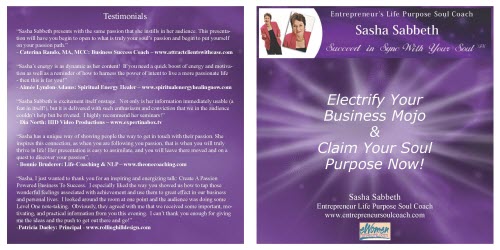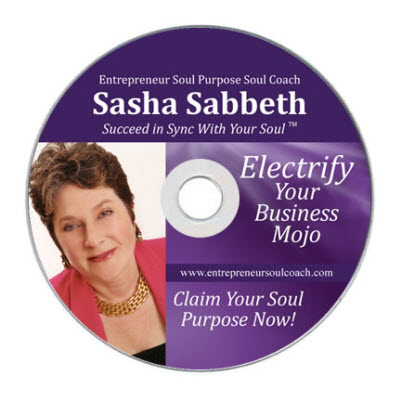 Listen to audio sampler here
For More Information on this product included in the complete collection
Click Here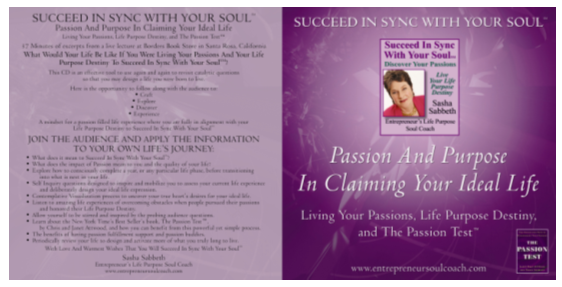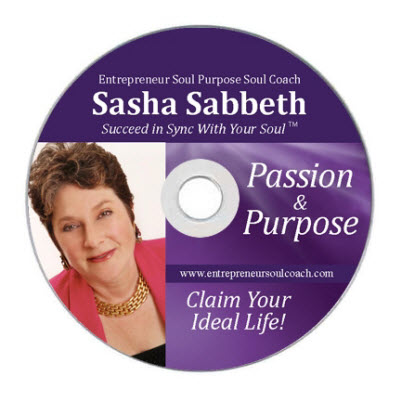 Click on video graphic below for video sampler of
Succeed In Sync With Your Soul live event
Click on the Add To Cart Button To Access Your Audio Collection
___________________________________________________________
Testimonials
"I was profoundly blessed by Sasha Sabbeth's breathtaking talent in her CD, "Sacred Peace." The tones were exquisite and powerful. It was as though an angel was with me and touching me deeply in unexplored places in my heart. I was uplifted and revitalized as well as moved by the sacredness of each tone. Thank you, thank you."
- Rita Reneaux: Principal and Founder - Yes & Company - www.yesandcompany.com

"The first time I heard Sasha's toning, I found my jaw dropping to the floor and tears came to my eyes. I had never experienced such exquisite tones with such incredible energy in my life.
My private session with Sasha was quite emotional, moving, and potent. I found it to open me to a deeper breakthrough that was waiting to happen. It cleared through layers of energy from past lives that were ready to be released. The combination of Sasha's intuitive, energetic, and toning gifts makes what she offers a VERY POWERFUL TREASURE!!!"
- Dan Hanneman "The BlockBuster", Intuitive Business Coach , and Healer: www.academyforinvinciblehealers.com

"When I experienced Sasha's Celestial Toning, I felt as though the sounds were re-organizing my molecules. They attuned me to my inner world. They were energizing. They released energetic blockages so that I was able to return to writing my play script and to go forward on my path. The sounds cleared out a lot of irrelevant mental chatter."
- Chetana Karel Machaan – Actress, Writer, Poet
"I am grateful to have had the fortune to experience Sasha Sabbeth's CD, Sacred Peace. This is truly a CD for meditation and healing. As someone who has suffered from the toils of anxiety for years, I am encouraged to discover that relief doesn't always come from a prescription medication. From the moment I heard the soothing tones of Sasha's singing, the daily corset of anxiety that tightens against my chest and torso started to loosen. Within minutes, I had a particularly extraordinary experience. I felt a ray of light and energy coming into the center of my chest…. Into my heart chakra. One by one, the strings of tension and stress gave way and my chest was open and free. I was able, at last, to take a refreshing and soothing breath. It was such a relief.

To anyone else suffering from the suffocation of anxiety, I would highly recommend Sasha's "Sacred Peace" music. It is truly a powerful tool for inner peace."
- KL: Assistant Community Director
"I enjoyed listening to the CD Sacred Peace by Sasha Sabbeth. Within seconds of listening I felt a wave of relaxation wash over me. It was calming, peaceful, and uplifting. I would highly recommend this for anyone drained by the never-ending demands of daily life; the re-energizing process began almost immediately. Sasha's music has the extraordinary ability to block out negative thoughts and distractions. I felt and heard the music's healing effects. In spite of being exhausted from a week-long battle against a viral infection, I was energized, centered, and motivated to tackle a project that I wasn't able to act upon before listening to her CD."
- Brigid Neeley: Psychotherapist

"Sasha's energy is as dynamic as her content! If you need a quick boost of energy and motivation as well as a reminder of how to harness the power of intent to live a more passionate life - then this is for you!"
- Aimée Lyndon-Adams: Spiritual Energy Healer – www.spiritualenergyhealingnow.com
"Sasha Sabbeth presents with the same passion that she instills in her audience. This presentation will have you begin to open to what is truly your soul's passion and begin to put yourself on your passion path."
- Caterina Rando, MA, MCC: Business Success Coach www.attractclientswithease.com
"Sasha Sabbeth is excitement itself onstage. Not only is her information immediately usable (a feat in itself!), but it is delivered with such enthusiasm and conviction that we in the audience couldn't help but be riveted. I highly recommend her seminars!"
- Dia North: HID Video Productions – www.expertinabox.tv
"Sasha has a unique way of showing people the way to get in touch with their passion. She inspires this connection, as when you are following you passion, that is when you will truly thrive in life! Her presentation is easy to assimilate, and you will leave there moved and on a quest to discover your passion".
- Bonnie Bruderer: Life-Coaching & NLP – www.theonecoaching.com
"Sasha's 'Succeed In Sync With Your Soul'™ CD is a potent 37 minutes of "Soul Food" nuggets. Her passion is completely contagious. Through her evocative invitation, I could feel my heart tune more to what excited me, lights me up, and turns me on. I recommend this value-packed coaching CD for anyone who could use encouragement and a healthy dose of support in living his or her most passionate and ideal life. Thank you, Sasha!"
- Fay Freed: Co-Director, Wisdom Connection - www.wisdomconnection.biz

"In my experience, there are three most important characteristics of a successful presentation. One is the passion of the presenter; the second is the invitation to participate in the dialog; and the third is the clarity of the topic matter. Sasha did a great job with all three. The audience responded to Sasha's openness and fully participated in the event. One of the highlights was how Sasha worked with an attendee to get beneath the surface of her concerns. Watching Sasha help this person really created value for me. I was impressed with Sasha's demeanor and focus during the event. I finished the event well-informed about the opportunity, as well as the next steps."
- Tom Marx: President and CEO The Marx Group –www.themarxgroup.com

"I attended one of Sasha Sabbeth's presentations. The energy that she exuded was infectious. I was particularly impressed with Sasha's attention to each person. The presentation left me feeling empowered with the tools and desire needed to reach deeper into myself. It truly was a mind opening experience. Thank you, Thank you, Thank you, Sasha! It is clear that you have found your purpose. I'm seizing this opportunity to once again bring balance to my life!"
- P.G.: Assessment Clerk Sonoma County Assessor

"Sasha Sabbeth is an amazing woman- a decisive problem-solver with sound ability to strategize and think clearly under pressure. She is self-motivated, inclusive, decisive, resourceful, and thoroughly committed to professional excellence. Her coaching and presentations help others to clarify their true passions, and facilitates them to move in the straightest path towards fulfilling their dreams."
- SM: Public Relations Business Owner