Featuring



Sasha Sabbeth

Sasha Sabbeth is the Entrepreneur's Life Purpose Soul Coach, Vibrational Personal Development Healer, Certified Passion TestTM Facilitator, Reiki Master, and Intuition Teacher. Sasha facilitates women in business to attain professional success and to live the life they were born to live. With 22 years experience, Sasha works with clients and audiences to develop a foundation self development tool kit for professional and personal success. Her mission and message are "Succeed In Sync With Your Soul TM."





eWomenNetwork
"Accelerated Networking"


---

Electrify Your Business Mojo & Claim Your Soul Life Purpose NOW!

What are your greatest business and personal challenges? Do any of these challenges make you feel drained, lacking adequate solutions, stopped in your tracks with ineffective business or personal strategies, trigger self sabotage behavior, problematic relationships, and excuses? Do you find yourself gripped with frustration, anxiety, self doubt, overwhelm, and teeter tottering on giving up? Do you feel at times that the you have lost your way and lost your MOJO? Take back control of YOU!

At this powerful event you'll learn:

Simple, fast techniques to harness your Passion Power in the face of challenges

Easy steps to cultivate enhanced intuition

Questions with which to begin a process to identify your Soul Life Purpose

Questions with which to begin a process to identify your Soul Life Purpose

How to turn up your Business Mojo regardless of the existing situation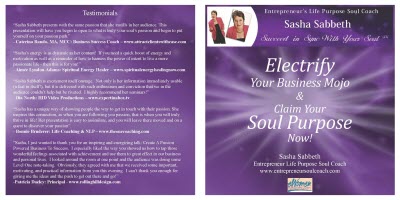 Click Here For MP3 Downloadable Recording Of This Live Event:
Electrify Your Business Mojo & Claim Your Soul Purpose Now!
---

"Sasha's energy is as dynamic as her content! If you need a quick boost
of energy and motivation as well as a reminder of how to harness the power
of intent to live a more passionate life - then this is for you!"

- Aimée Lyndon-Adams: Spiritual Energy Healer – www.spiritualenergyhealingnow.com

"Sasha is a passionate speaker and obviously knowledgeable about living one's passions.
She really got me thinking about my "Mojo" and what is active in my energy field that
impacts my personal and professional life experiences. Also, I am using a NeuroLinguistic
Programming technique that she taught in her presentation called "anchoring." I apply it
by remembering a desired past experience and then anchor it to bring forward into my
present NOW. I am finding this particular technique to be very empowering and effective in
attaining my day to day objectives".

- Nancy D Waring: Communications and Marketing Consultant
FREE No obligation Soul Purpose Success
Strategy Session
Let's explore what you need to live your Soul Purpose lifestyle more effectively for greater joy, freedom, success, and inner peace.
I am honored to have the opportunity to contribute to this vitally important
and thrilling exploration with you.